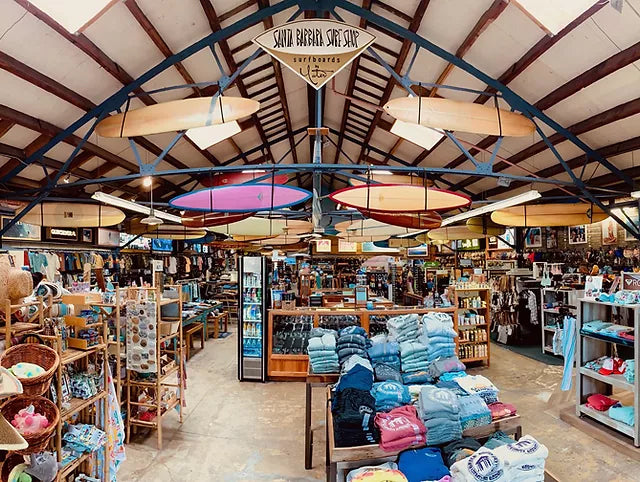 Shop Feature: Surf n Wear's "Beach House"
In our second shop interview, we had the pleasure of having Grayson Nance of Surf n Wear's Beach House, answer a few questions about their family owned business.
Uroko: When did the business first open its doors? Are you the original owner? 
Grayson: The business started in 1962 as Owl Surf Shop in Summerland, CA. The original owner was Jeff White. In 1965, Owl Surf Shop moved to downtown Santa Barbara under the new name of "Surf n' Wear". Roger Nance partnered with Jeff in 1979 at which point they opened multiple Surf n' Wear locations. Surf n Wear's Beach House (our current location at 10 State St) was opened in 1987.
Uroko: Why did they want to open a surf shop? … What have been some of your best years of business and some of the roughest? 
Grayson: They opened because they were a lifestyle business, and still remain in part that today. ... There have been too many ups and downs to go into detail, but it's been a great ride.
Uroko: What differentiates your business from local competitors and/or other businesses like yours elsewhere?
Grayson: While having a large part of or business be tourist driven, we have also remained relevant and important to the core local surf community and Santa Barbara surf history.
Uroko: Do you have any business philosophies that you want to share? (If you were to guide a new small business owner.)
Grayson: Make sure you love what you do!
Uroko: What is the best part of being a business owner or managing a store in your community?
Grayson: The buck stops with you.
Uroko: What are some of the events, services, activities that you do for your community?
Grayson: Roger Nance started the Rincon Classic surf contest in 1979 and ran it up until 1996. It is the most prestigious contest in our area, and has featured local professionals throughout the years. In recent years it has been run by Surf Happens. We also hosted a number of other contests, ocean swims, and surf movie premiers through the 70s and 80s. We have also offered surf lessons and summer camps throughout the years.
Uroko: Does your business offer any specialty services that you don't find at other similar shops?
Grayson: We offer vintage surfboard expertise, in the form of appraisals. We also have one of the most extensive surfboard collections hanging in the rafters of the shop
Uroko: Running a business is all consuming. How do you balance your work and family life?
Grayson: Have good people working for you so you don't have to be there all the time. It also helps when you work with your family. We are family owned. Roger and Grayson Nance are in the shop daily and the rest of the family is stopping by regularly.
Uroko: Thank you for your time and for what you have done in your community!